I've done basically nothing but blog about this book all month, so I'm not going to say terribly much. If you want to read it I'm sure you'll find a way to do so, and if you don't want to you'll just be like
"SHUDUP, STEFAN, AND BLOG ABOUT FRUIT JELLIES AGAIN,"
which I shall because fruit jellies are amazing, but I do want to say thanks to a bunch of people.
Neither
The Peculiar
nor
The Whatnot
had space for acknowledgements (like, I literally couldn't make them small enough to fit) and the process of making books and getting them into readers' hands is something that happens thanks to so many awesome people. Here goesssss: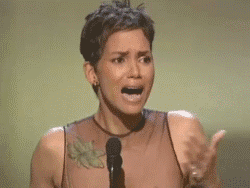 "I'd like to thank my dog, Pooky, and my friends from pre-school, and my hamster who is an inspiration and the strongest person I know."
But seriously:
Thank you's.
Virginia Duncan - Thank you for liking that draft of
The Peculiar
two years ago and for bidding for it and for editing it and reading these books over and over again and helping them become better, and for being super patient about everything, and an awesome editor.
Sara Megibow - Thank you for being a fantastic agent who answers all emails lightning fast and handles all sorts of background stuff so that I can write.
Mom - Thank you for reading through all the many drafts and revisions, sometimes last minute, sometimes quite late, sometimes at points where my brain is so fried from editing that I have no clue if it's even a book anymore or what words are.
Lois - Thank you for all the smart copyedits that I sometimes don't do, much to my everlasting chagrin.
Casey - Thank you for organizing all the publicity things and for not getting annoyed during the time before I realized you get all the same Google alerts I do.
Thierry Lafontaine - Thank you for illustrating two awesome covers.
Taryn Albright, Emma Trevayne, and Ari Susu Mago - Thank you for being awesome beta readers and all-round awesome people.
Briony, Beckett, and Emma - SILLY RASCALS. :) *squishes"
More thank you's to:
Everyone at Greenwillow and Harper who do so much work that I don't even know about but is super important. Sales reps and marketers and publicity and online people. I totally appreciate it.
All the foreign publishers who decided to bring the book out in places like Norway and South America and Germany and Poland and the UK and other places that I can't remember right now because ze brain: it is broken.
All the booksellers and bookshop-keepers who do so much to get books into he hands of readers, and who hand-sell, and book-talk, and love books in general.
All the librarians and teachers who book-talk and encourage reading.
Readersssss! Kid-readers especially. But really anyone who's ever bought the books, or picked them up at a library, or borrowed them from a friend and sat down to read them.
You're the best,
Everyone who took the time to review the books on Amazon or Goodreads or Barnes & Noble or anywhere at all.
Everyone who talked about the books IN REAL LIFE. This - recommending a book to friends or family - is the best thing anyone can do for a book they like, and I'm super grateful to all the people who did it with
The Peculiar
Thank you so, so much. :)
Here's
Book 2
. I hope you like it. I hope it's better than the first one, or different, or just plain entertaining, and I'm so excited for it to be out there.