I actually need to start this next tour re-cap with the authors
I forgot to mention
in my last post. (Ahhh! Stefan, how could you.)
I know. So:
Cynthia Leitich Smith
,
Lynne Kelly, Augusta Scattergood
(I think we should take a moment to admire that name, don't you?),
W.H. Beck
, and the hilarious
Amy Ignatow
.
I do not have pictures with any of these people. *slaps self*
BUT! I have pictures with two
other
cool people who drove five hours in a bus for this newby author's book signing and then let me drag them to the Metropolitan Museum of Art to admire Vermeer and suits of armor. They also gave my brother and me cookies. They are both writers, and their books sound fantastic so I suspect they will both be authors soon, too.
Caitlin R. O'Connell
and Sarah Singer -
Here's us looking picaresque in Central Park:
Now. Publishing People I met:
Sara Megibow and Kassie Evashevski
- I met my agent! In the for realz. She's fantastic. Also, my film agent Kassie Evashevski flew all the way from LA to New York City just to have dinner with us. Needless to say, she's very glamorous. And super nice.
Sara, meee, and Kassie, in NYC.
Virginia Duncan -
Editor of the stars (other people, not me.
THESE people
.) But seriously, she's kind of a big deal. She flew down to Texas to help me with the Houston leg of the tour, and she had fans, like, pouncing on her. Not even kidding. Also, she has a corner-office in the HarperCollins skyscraper and a box-full of covers that the world is not allowed to
see
yet, and we discussed Book 2 edits and I got to see Book 2's cover, which is so cool I can't wait to show it to you.
In FACT, I got to meet all the people at Greenwillow. That would be Sylvie, Lois, Martha, Tim, Paul, Virginia, and Tu Anh. And since for some reason I didn't take a single picture inside the Greenwillow offices, I'm going to cheat and post a picture they sent me back in August, right after the first finished copies of
The Peculiar
came in:
Greenwillow! I may be biased, but they're the best publisher.
While I was in NYC I also went to the famed
Books of Wonder
. I got to meet the owner, Peter Glassman, and the rest of the staff, and they were all great, but a special shout-out must go to Jay, who is a bookseller there and likes my book, so he has the distinction of being
awesome.
At Books of Wonderrr. With my publicist, Casey McIntyre, who is an organizational mastah.
A whole bunch of nice Publishing People came to the Books of Wonder signing:
agents Sarah LaPolla, Brooks Sherman, and Macmillan editors Vicki Lame and S. Jae-Jones.
I don't know who bribed them to come, but they were all so nice and I was awfully flattered they did. Here they be:
From right to left: S. Jae-Jones, Julie Ann Grasso, Me, Brooks Sherman, Vicki Lame, Caitlin O' Connel, Sarah LaPolla
Julie Ann Grasso
is not technically in publishing as far as I know, but she designed the ehmehhhzing t-shirts you see up there and down here, so it doesn't matter. Look: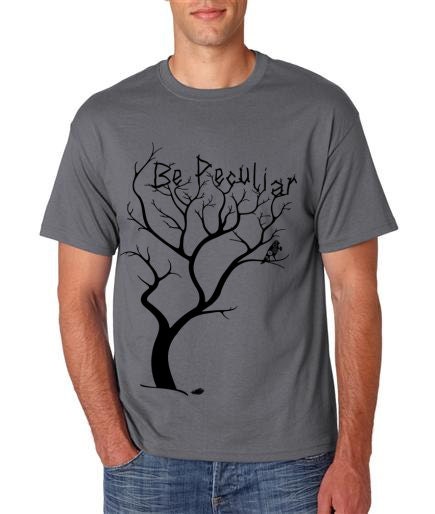 Note the clockwork bird on the branch. And the feather on the ground. If you want it, you can buy it
here.
(And don't worry, I don't make any money off of it. But Julie does and I think she should, because the shirts are cool, not to mention that slogan is like THE MEANING OF LIFE.)
Anyway. . .
I met a bajillion people at HarperCollins. Alas, I only remember a few. There was a sales rep named Heather Doss, and a guy who knows all about websites and helped me with mine, named Alex Garber, and someone named Aubrey and someone named Margot and somone named Robin, and Sandee Roston and Patty Rosati, but that's all I REMEMBERRR. :( They were great, though, every one of 'em.
The evening of Comic-Con, Virginia and Martha of Greenwillow took Rae Carson and me to dinner with
Rita Meade
, librarian and funny blogger, and
Monica Edinger
, who reviewed my book for the New York Times. They were both very cool, and I wish I had been more awake for that dinner, because they were such interesting people and I was just like *props eyelids open with forks*.
I ALSO MET TARYN ALBRIGHT. SEE, TARYN? HERE YOU ARE.
She's an editor-to-be, and a publishing intern, and a writer, and my beta-reader, and she's so witty in real life that I was a little bit startled. I spent most of that afternoon laughing at everything she said, and the rest of the time obsessing over books. Also, we had ice cream.
I met HarperCollins sales rep Jenny Sheridan and hung out with her and our media escort Ron Murphy. Both great people. They took me to downtown Chicago for deep-dish pizza and I got the inside scoop on sales-repping and author escorting. And since I had no idea what either of these jobs were before getting published, I thought I might elucidate:
A sales rep. . .
represents a publisher and pitches their books to chains/indies/online retailers in the hopes that the chains/indies/online retailers will stock them. Because if the chains/indies/online retailers don't stock them nobody will buy them. And then you starve.
A media escort. . .
owns a car, which is practical because I don't, and even if I did I wouldn't know what to do with it. Media escorts take you to your events, keep you from forgetting your laptop at school libraries, and if they're as cool as mine was, will talk to you about books and music and politics and food and it'll be great because chances are you don't anyone in the city you're in and would be very bored otherwise. I gave Ron a signed copy of
The Peculiar
on our last day. I hope he likes it.
CLINCHER: apparently everyone in publishing is nice.
Yep. More people should be Book People, I think. :)